About the Project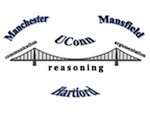 The Bridging Practices among Connecticut Mathematics Educators (BPCME) was a Math Science Partnership grant project funded by from the Connecticut State Department of Education (2014-2016). The project focused on mathematical argumentation. This site contains two completed self-paced modules, with one more in progress, that we hope allow you to explore various aspects of mathematical argumentation.
From this page, you can explore the self-paced learning modules, supported by classroom video, student artifacts, and focused commentaries. You can also use the Quick Links to explore other part of our website such as our set of 5 PD modules, our Argumentation Resource Packets (providing a protocol and student work to support professional conversations) and our Tasks & Tools Repository.
Many thanks to all our project participants, and particularly those who shared their idea, tasks, tools, student work and classroom practice, from which we can all learn!
Session 1: Mathematical Argumentation
What is a Mathematical Argument?
A. Establish a shared definition of argumentation
B. Identify different approaches to an argument
Session 2:

Mathematical Argumentation in the Classroom
What does Mathematical Argumentation look like in the classroom?
A. Connect argumentation to the classroom context
B. Analyze student arguments and the relationship between argumentation and conceptual understanding
Session 3:

Tasks that Prompt Argumentation
(UNDER CONSTRUCTION. PLEASE VISIT AGAIN)
What kinds of tasks support mathematical argumentation in the classroom?
A. Analyze tasks for the degree to which they prompt student argumentation
B. Modify tasks to support student argumentation
Quick Links
Contact Information
Comments or questions:
Megan Staples
Technical support and questions:
Cory Joyce